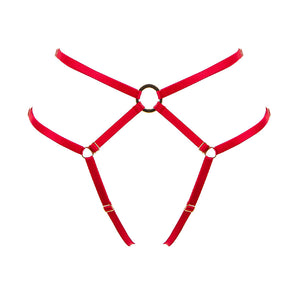 Bon Bondage Harness Thong Slim ruby
Sale price Price $83.00 Regular price Unit price / per
The Bon Bondage harness thong slim is like the classic Bon Bondage harness thong, but with 10mm satin elastics. Crafted from soft, Austrian satin elastics that are held into place with nickel free, gold plated rings and sliders, the Bon Bondage harness thong slim is the perfect accessory to take your lingerie from day to night. Adjusters sit on every single elastic for easy access and adjustment and fits all sizes from XS-XL.
Features:
soft Austrian satin elastics (10mm)
nickel free, gold plated hardware
fully adjustable for all sizes from XS-XL
available in black, powder and red
Material:
Elastics: 80% PA, 20% EA
Care:
Delicate hand wash separately, do not bleach, do not tumble dry, do not iron, do not dry clean. Please use an environment friendly detergent!
Handmade to order in Vienna, Austria. Please allow up to 2 weeks for your lingerie to be delivered. 
Whether you treat yourself or buy it for a special friend, all orders include complimentary gift wrapping.
Worldwide shipping
Combine it with the Bon Bondage Harness Slim and bring some bondage magic to the boudoir with this seductive lingerie playsuit.    
----------------------------------------------------------------------------------------------
Handgemacht aus weichen, schmalen Elastikbändern (10mm) aus Österreich, verzaubert der Bon Bondage Harness String Slim jedes noch so klassische Wäschestück in ein atemberaubendes Outfit. Jedes einzelne Bändchen kann mit nickelfreien vergoldeten Schiebern verstellt werden, so ist der Harness String Slim für alle Kleidergrößen (S- XL) geeignet.
Besonderheiten:
weiche Elastikbänder aus Österreich (10mm)
nickelfreie, vergoldete Ringe und Schieber
verstellbar für alle Größen von XS-XL
in schwarz, puder und rot erhältlich
Material:
Elastische Bänder: 80% PA, 20% EA
Wäsche:
Handwäsche. Nicht bleichen. Nicht schleudern. Nicht im Trockner trocknen. Nicht bügeln. Nicht trockenreinigen. Bitte benutze ein umweltfreundliches Waschmittel!
Die Wäsche wird erst nach Bestellung ganz speziell für dich in Wien hergestellt, daher bitte ein bisschen Geduld! Die Anfertigung kann bis zu 2 Wochen in Anspruch nehmen.
 
Egal, ob du dir selbst eine Freude machen, oder ein Geschenk kaufen willst: alle Bestellungen werden kostenlos in Geschenkverpackung geliefert.
Weltweiter Versand
Kombiniere den String mit dem Bon Bondage Harness Slim und bring mit dem verführerischen Playsuit ein bisschen Bondage-Magie ins Schlafzimmer!